Mercy Teams
Mercy teams go to bring Christ's love to the orphaned and underprivileged and to affirm to them that they are valued. We also assist those caring for the children and give them some rest and respite.
The activities we do on any day depend on the children's ages and physical abilities.  Activities include games, crafts, puppetry, singing etc. Team members are asked to contribute with their creativity and skills. If we are looking after babies, then the day may involve domestic work and lots of hugging, playing, feeding and then face washing.
YOU DON'T NEED A QUALIFICATION TO CARE…

Mercy team members' main prerequisite is a compassionate heart and the ability to offer practical help.  Any other skills that you can offer will be hugely welcome. Many of the children have special needs or may require medical treatment and physiotherapy. Mercy teams also help children in foster care situations.Another aspect of CCSM mercy work is bringing health and medical expertise, agricultural help, educational opportunities and relief to people in need in remote villages.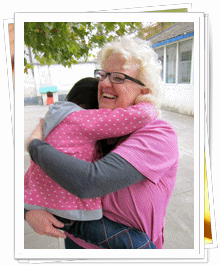 China's orphanages are seeing shifts in demographics that reflect continuing changes in women's opportunities. The population has moved toward the cities as the industrial era and the digital age provide jobs for both sexes. Social media and youth culture have altered traditional beliefs toward the value of women. This, along with recent changes in policy allowing families to have two children, has meant more balance in the genders of children looking for adoption.
Proportionally now, however, the number of children with disabilities and birth defects is higher, leaving carers with a greater and more complex workload.
A BIT ABOUT THE ITINERARY
After arriving in China, you will have time to meet with the other team members and receive orientation for your trip.
Dates:
Teams are about two weeks in duration and depart in April (2016 team now full!!), July and October. If you have a group of eight or more people who would be interested in joining a mercy team, please let us know and we can talk about putting together a trip just for you! Or join with others in one of the upcoming CCSM mercy teams.
Find out more about our other short-term teams: